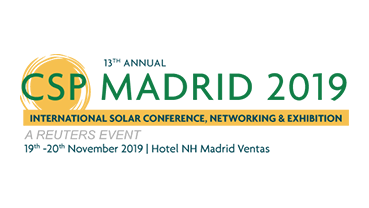 Aragon Photonics keeps investing in its solar energy instrumentation division by participating this week in CSP Madrid 2019, one of the major events for the concentrating solar power industry, as a sponsor and exhibitor. Stop by Aragon Photonics booth for live demonstrations of our bestselling solar reflectometer CONDOR and our new receiver tube spectrophotometer INCUS.
INCUS is a portable spectrophotometer capable of performing fast and accurate measurements of the optical performance of parabolic trough receivers. INCUS has been designed for use in the solar field with usability and robustness in mind. Concentrated solar power parabolic trough collector efficiency monitoring is critical for pre-installation quality control of solar receiver, validation for commissioning, cleaning supervision and planning, and field performance estimation. Learn more in the INCUS product page.
CONDOR and INCUS are based on patents owned by ABENGOA and licensed in an exclusive basis to Aragon Photonics. Both products have been extensively tested in operating CSP plants and shaped with O&M technicians feedback.